Automatic measuring system
Sensoptic supplies turnkey measuring systems controlled by personal computers which include proprietary PROFILE SENSORS, SENSYSTEM hardware for data acquisition and SENSOFT software for data management.
Our core-competence in optical sensor technology, together with our understanding of manufacturing processes, enables us to innovate, ensuring that our customers have new systems to keep them one step ahead of their competitors.The hardware and software integrants of our measuring systems can be easily combined in different configurations in order to satisfy the specific requirements of each customer.
Features
Can be fully integrated into any manufacturing process for continuous on-line quality control of multiple lines
Portable configurations for off-line sample inspection in production or laboratory environments
Runs on Windows based ordinary personal computers
Multi-function, reliable and user-friendly SENSOFT software
Up to 32 PROFILE SENSORS connected to one SENSYSTEM unit controlled by a single personal computer
Configurations available for single-axis and dual-axis measurements, diameters from 0.01 mm to 4 mm and line speeds up to 2000 m/min
Vision system
 Innovative measuring system that captures instant photographs of small filament imperfections running at high line speeds, ideally suited for quality control of spools both in laboratory winding stations and in production machines.
SENSOPTIC VISION is composed of an optical PROFILE SENSOR PXL for fault detection, a VISION MODULE with an ultra fast LED flash for image recording, a SENSYSTEM NETWORK unit for electronic signal processing and a computer with SENSOFT VISION software.
Vision System – datasheet
Features
Line speed up to 1000 m/min
5 Megapixel image sensor
10 µm optical image resolution
Adjustable photo-trigger level
Integrated precision wire guides
PROFILE SENSORS
Sensoptic designs and manufactures precision optical sensors for non-contact detection of defects in fine wires and filaments. To satisfy today's demanding quality control standards, our PROFILE SENSORS are as essential as laser micrometers for diameter measurements.
PSD Dual-axis PROFILE SENSOR for enameled wires – datasheet
PSM Single-axis PROFILE SENSOR for fine monofilaments – datasheet
PXS Single-axis PROFILE SENSOR for wires and filaments – datasheet
PXL Dual-axis PROFILE SENSOR for wires and filaments – datasheet
Features
Non-contact measurement in one or two planes
Diameters from 0.01 mm to 4 mm
Line speeds up to 2000 m/min
Detection of defects with micrometric resolution
Compact design for narrow parallel lines
Reliable operation even under rough conditions
Insensitive to ambient stray and intense light
No moving parts, low maintenance, long lifetime
Swiss made, 2 year guarantee
Technology
Our sensors are based on light intensity shadow measurements and employ LED sources instead of lasers. Since they have no moving parts, they are more reliable, require lower maintenance and have longer lifetime.
Compared to conventional fault or flaw detectors, our PROFILE SENSORS allow the detection and characterization of smaller defects on wires and filaments running at higher speeds and with superior precision.
To build our sensors compact and robust, we take advantage of Swiss tradition in fine mechanics and microtechnology combined with the use of advanced miniaturized optoelectronics components commercially available from modern optical telecommunications systems.
SENSYSTEM electronic units
The SENSYSTEM electronic units serve to run PROFILE SENSORS from a Windows based personal computer. They include all hardware for data acquisition, input connections for the sensors and an output USB connection to the computer.
SENSYSTEM COMPACT for 1 or 2 dual-axis profile sensors
SENSYSTEM STANDARD for up to 4 dual-axis profile sensors
SENSYSTEM NETWORK for up to 4 dual-axis profile sensors. Includes an embedded computer
SENSYSTEM PROCESS for up to 16 dual-axis profile sensors
SENSOFT STANDARD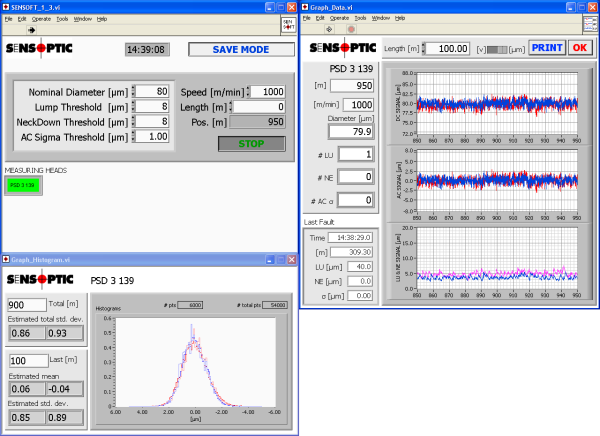 Features
Continuous monitoring of single or multiple lines with the same filament diameters and speeds
Real-time visualization of statistics and quality parameters
Intelligent detection of faults beyond specified threshold values
Automatic data recording and data saving for post-processing
Elaboration and printing of production quality reports
SENSOFT SPECTRO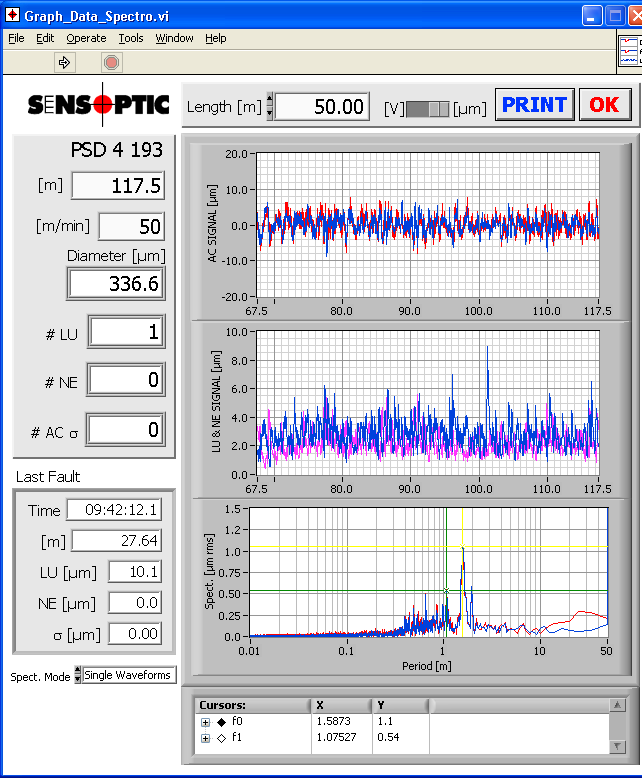 Features
Filament periodic diameter variations analysis through real-time Fast Fourier Transform
SENSOFT ML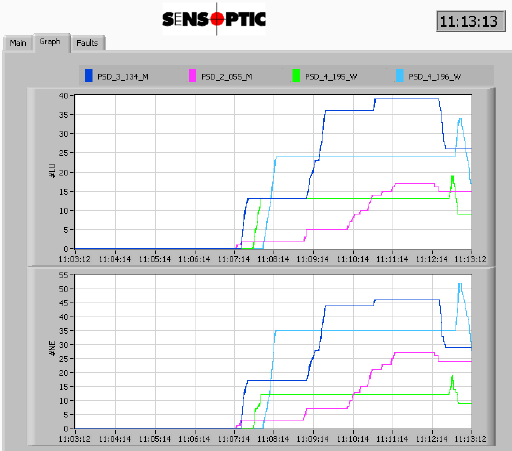 Features
Continuous monitoring multiple lines with different diameters and speeds
Real-time visualization of statistics and quality parameters
Operation can be fully automated through database reading of diameter, line speed and spool changes parameters>
Automatic data recording and data saving for post-processing
Elaboration and printing of production quality reports
CONTOUR
Features
Single line fault shape analysis
Real-time visualization of faults shape, size and length